claimtoken-51e051c6e9fe0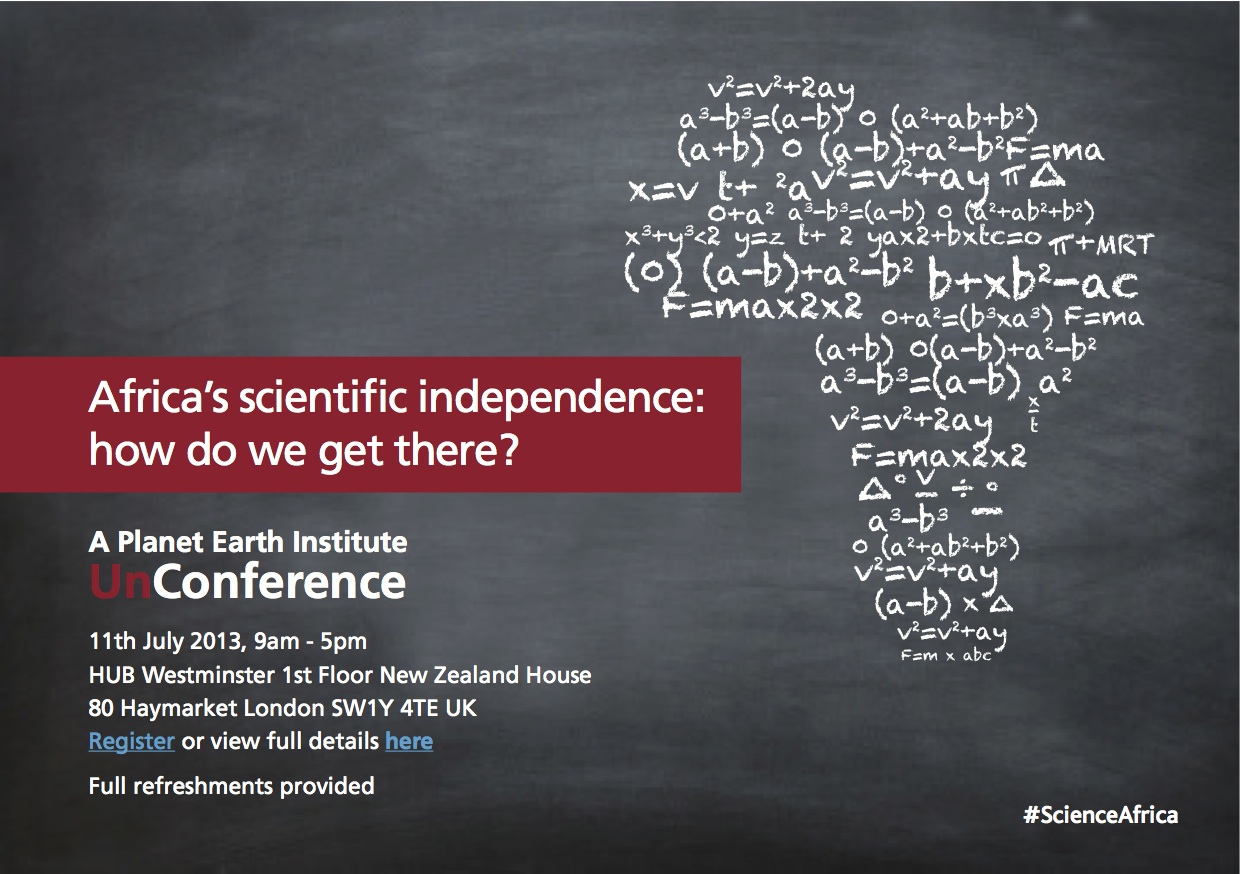 The 11th July saw Africa's Scientific Independence, a day-long 'Unconference' run by the Planet Earth Institute, at the Hub Westminster. Chaired by Lord Boateng and featuring a number of senior scientists and policy makers in the UK and all over Africa, the event tried to get to grips with a rather large question of how we get to Scientific Independence in Africa.
The morning began with messages and thoughts from across the world about what 'Scientific Independence' actually means and what points must be taken into consideration for this goal. Lord Boateng interviewed a diverse panel (including Dr Kasirim Nwuke, Prof Peter Piot, Ms Kanyhama Dixon-Fyle and Mr. Ahlin Byll-Cataria) on the issue. Will increased wealth drive the capacity for research? Dr Nwuke certainly thinks it is a possibility, as funding research may not be seen as a priority in countries with more pressing concerns. However, he made an additional point that without considering long term spending plans and planning for an expansion in research, countries may encounter barriers for science in the future. Also discussed was whether the international funding agenda itself undermines Africa's research as research grants rarely give enough to collaborators in Africa. On a more positive note, the panel and delegates argued that Africa has the opportunity to advance a new holistic and collaborative approach to science, with its deep and ancient scientific and spiritual past, and challenge and critique the 'western' scientific paradigm.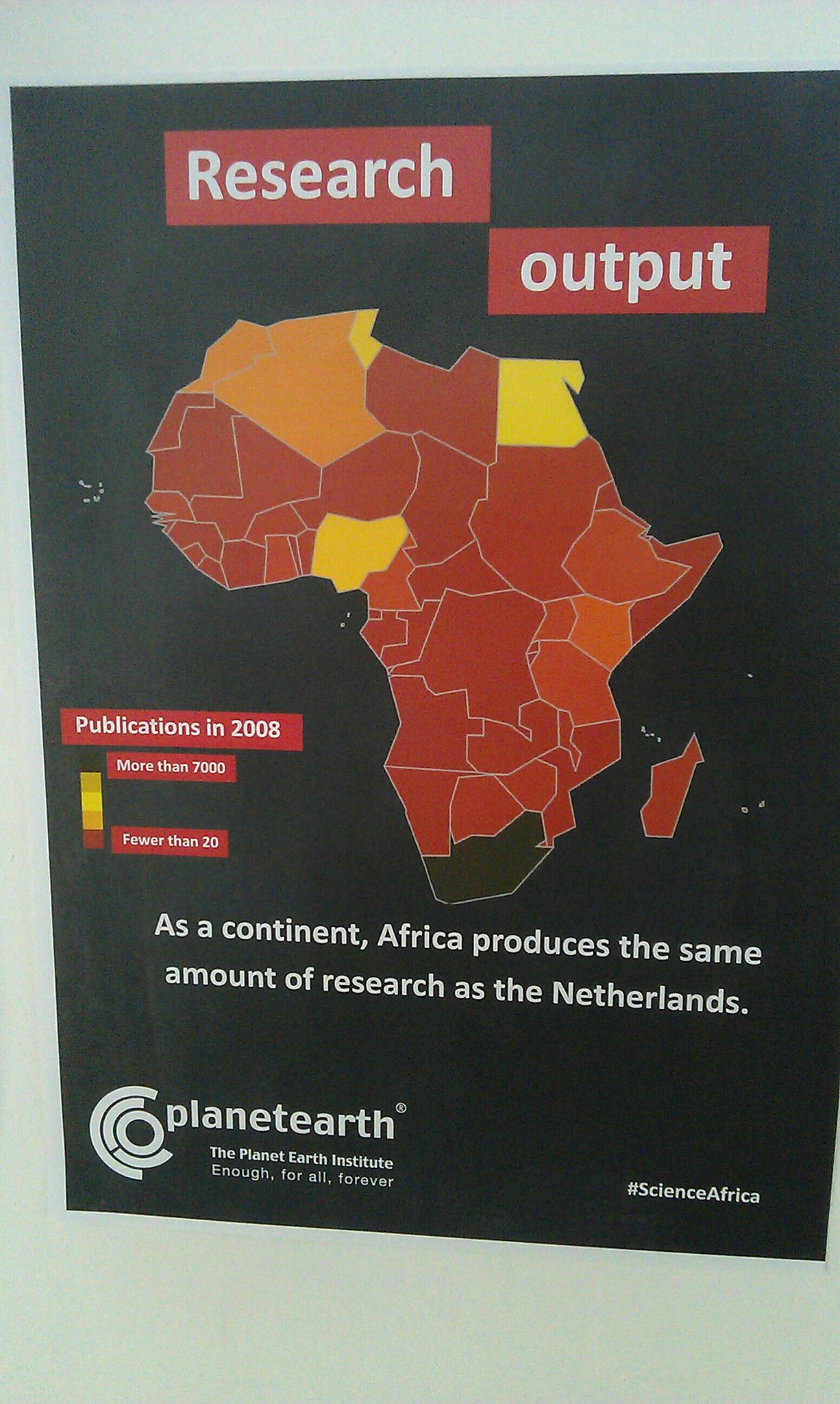 I was part of a fairly young group for the morning discussion following on from the panel interviews. Our discussion centred around what 'independence' means. A general feeling was that perhaps an interdependence had more value, with Africa joining and leading world research. An emphasis was placed on the importance of collaborative research with knowledge and skill sharing in both directions. We felt that education at base level was essential for a sustainable advance in research, following on from the plenary comment that "you cannot sleep on a borrowed mat"; Africa shouldn't rely on external support but build strong scientific foundations. Andrew Lamb of EWB-UK discussed how Lego can be used to enthuse young engineers and encourage curiosity but, in order to reach that, children need to have enough leisure time that isn't available to those spending hours of their day collecting water. Lastly we moved on to discussion at the top level, those who make the decisions on curriculum and funding, and stressed the significance of role models and icons for STEM and the public engagement of science.
With such a diverse topic as science and Africa, conversations and group discussions often meandered to a great extent and it was sometimes difficult to find a coherent line of argument. At least part of the reason behind this was the Unconference format, which was intended to allow for a flowing conversation and did so, but may perhaps have hindered productive discussion in the more focused afternoon workshops. This was particularly the case in the Communicating Science to the Public workshop, which covered everything from the role of science fiction and comics in engaging the public with scientific ideas, to thoughts on how play is important to children, to science programmes in the media without fully focusing on the conference's topic, science in Africa.
Some take away thoughts for the day:
Collaboration will be essential in the development and encouragement of Africa's scientific research output. Collaboration is more and more important in the UK's research sector with pressures from decreasing funding but, more positively, the change of focus to collaboration also allows significant knowledge sharing.
Investing in Education as a long-term strategy. Education is needed for a lot more than just the future research output of a country but, to further Africa's research, ensuring that children at all levels get a good grounding in scientific ideas will be needed to ensure research leaders in the future. As with the UK, an increased affinity for science from a young age should reap benefits from the top down.
A point made by Lord Boateng that politicians want to get re-elected. Education is a vote winner – most of the population will hopefully go through primary school – and if you can convince politicians that their agenda should include scientific education and scientific research then change can come from the top as is needed.
A final point. Much of the conference focused on something that may be considered a luxury in Africa: scientific research for knowledge generation. The panel did discuss the significance of income from applied science, the encouragement of entrepreneurs off the back of this and how that may help development. But in a continent as diverse as Africa and with such levels of inequality from the poorest of the poor to those at the level of the discussion today, the question still remains: how do you communicate that idea to the many many people who still live hand to mouth?
Note (added in 2020) The Planet Earth Institute has closed due to allegations against the CEO and board members. I was only invited to write a blog for them in the early days. I stand by what I wrote, but obviously disown the corrupt actions of the leadership of which I (and I imagine many of the staff I communicated with by email or at the Unconferences) was not aware.